2022 Borealis Crestone Eagle
Specs, Comparisons, Reviews, Galleries
The Crestone is Borealis' flagship fatbike, from a company that specializes in fatbikes.
What we like:
Ultra customizable options with lots of variety based on your budget and purpose.
Fit up to 5"x26" or 4.5"x27.5 tires gives lots of options based on your needs.
Ultra lightweight, this is the lightest fatbike we've seen. Even the cheaper builds come in at 26.5 lbs.
What we don't like:
We don't own one yet ;)
They don't share standover numbers because of the customization amount, we would like to see a range at least. For shorter riders this is so important on snow.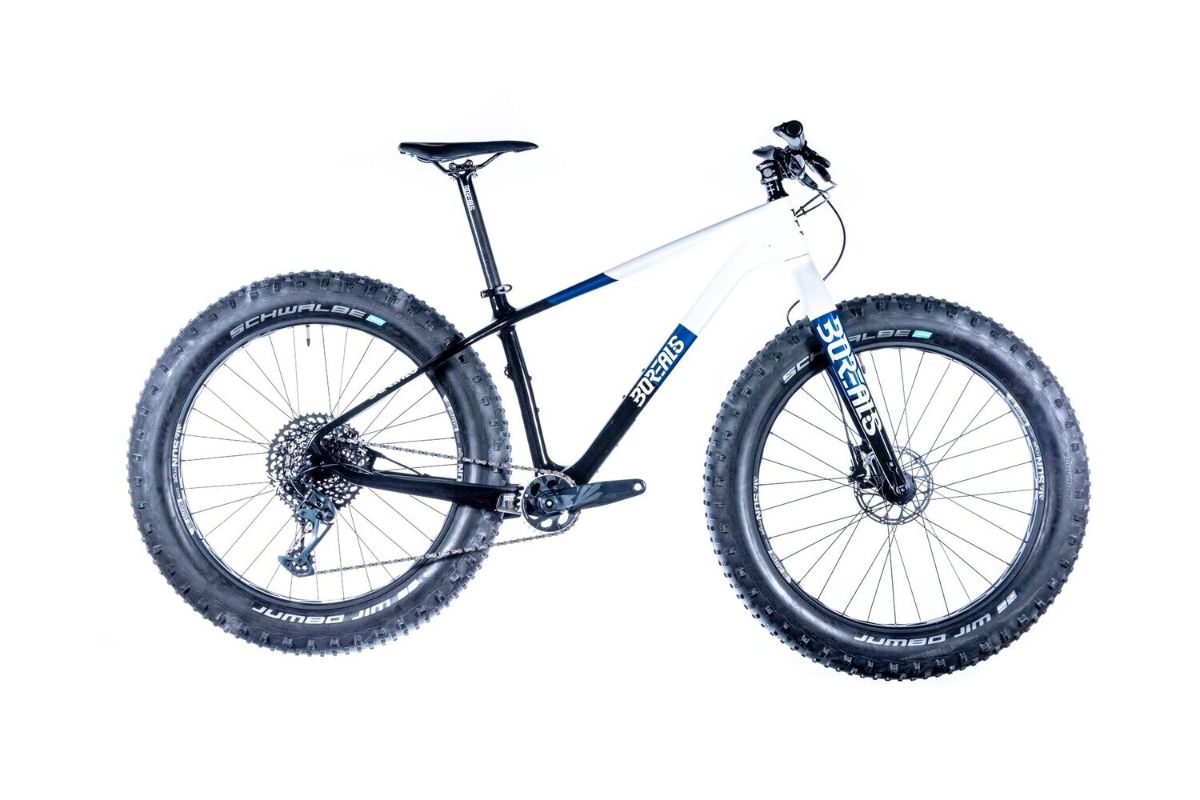 Key Specs
Specifications for the Borealis Crestone Eagle that are the most important to picking a mountain bike.

| Specs | Crestone Eagle NX | Crestone Eagle XX1 |
| --- | --- | --- |
| Price (USD) | 3377 | 6077 |
| Rear Travel (mm) | 0 | 0 |
| Front Travel (mm) | 0 | 0 |
| Head Tube Angle | 70 | 70 |
| Seat Tube Angle | 73 | 73 |
| Wheel Size (in) | 26 | 27.5 |
| Max Tire Width (in) | 29x3, 27.5x5 26x5 | 29x3, 27.5x5 26x5 |
| Component Group | NX | XX1 |
| Frame Material | Carbon | Carbon |
| Weight (kgs) | 11.79 | 10.58 |
Components
Components for each model of the Borealis Crestone Eagle comes with.

| Component | Crestone Eagle NX | Crestone Eagle XX1 |
| --- | --- | --- |
| Fork | Borealis Rigid Carbon | Borealis Rigid Carbon |
| Tires | Schwalbe Jumbo Jim 26 x 4.8" | Maxxis Colossus 27.5 x 4.5" |
| Wheelset | Hubs: Borealis 6 Pawl; Front: 15x150; Rear: 12x197; Rims: MuleFut 26 x 80mm | Hubs: Borealis 6 Pawl; Front: 15x150; Rear: 12x197; Rims: HED Carbon 27.5 x 85mm |
| Brakes | SRAM Level T | SRAM G2 Ultimate |
| Rotors | F: - R: - | F: - R: - |
| Stem | Borealis | Borealis |
| Headset | Borealis | Borealis |
| Handlebars | Borealis Carbon Bar, 35mm diameter | Borealis Carbon Bar, 35mm diameter |
| Shift Levers | SRAM NX | SRAM XX1 |
| Grips | Borealis | Borealis |
| Saddle | Borealis | Borealis |
| Seatpost | Borealis Rigid Carbon 31.6mm diameter | Borealis Rigid Carbon 31.6mm diameter |
| Bottom Bracket | SRAM DUB 100mm | SRAM DUB 100mm |
| Cassette | SRAM Eagle PG 1230 11-50 12spd | SRAM Eagle XG 1299 10-50 Gold 12spd |
| Chain | KMC X12 | SRAM X12 Gold |
| Crankset | SRAM Eagle NX Alloy 30t, 175mm | SRAM Eagle XX Carbon 30t, 175mm |
| Rear Derailleur | SRAM Eagle NX 12spd | SRAM Eagle XX1 12spd |
Geometry
Geometry numbers for each Borealis Crestone Eagle, the fit, feel, & handling.

| Geometry | Crestone Eagle NX | Crestone Eagle XX1 |
| --- | --- | --- |
| Size | MD | MD |
| Crank Length (mm) | 175 | 175 |
| Stem Length (mm) | 50 | 50 |
| Reach (mm) | 437.5 | 437.5 |
| Top Tube Length (mm) | 610 | 610 |
| Stack (mm) | 625 | 625 |
| Chainstay Length (mm) | 459 | 459 |
| BB Drop (mm) | 60 | 60 |
| Head Tube Angle (degrees) | 70 | 70 |
| Seat Tube Angle (degrees) | 73 | 73 |
| Head Tube Length (mm) | 120 | 120 |