2021 Pivot Firebird
Specs, Comparisons, Reviews, Galleries
The 2021 Pivot Firebird is a new version of the popular trail bike. This new model features a carbon frame, improved standover, and a lower center of gravity. It comes with a wide range of features, including Fox Live Valve integration and a progressive leverage-rate curve that is optimized for high-volume air shocks. This is an excellent bike for a variety of riders and is available in 9 versions.
Highlights:
Adjustable geometry with a flip chip upper link mount.
Compatible with both 29" and 27.5" wheel sizes without compromise thanks to the adjustable geometry for 29" 27.5" or MX wheel setups.
Fits tires up to 29x2.6" or 27.5x2.8" wide.
12 x 157mm Super Boost Plus rear spacing adds stiffness and control.
Can be spec'd with either SRAM or Shimano components
Pivot's customer service has an excellent reputation for responsiveness over other brands.
Negatives
No entry level build to lower the cost.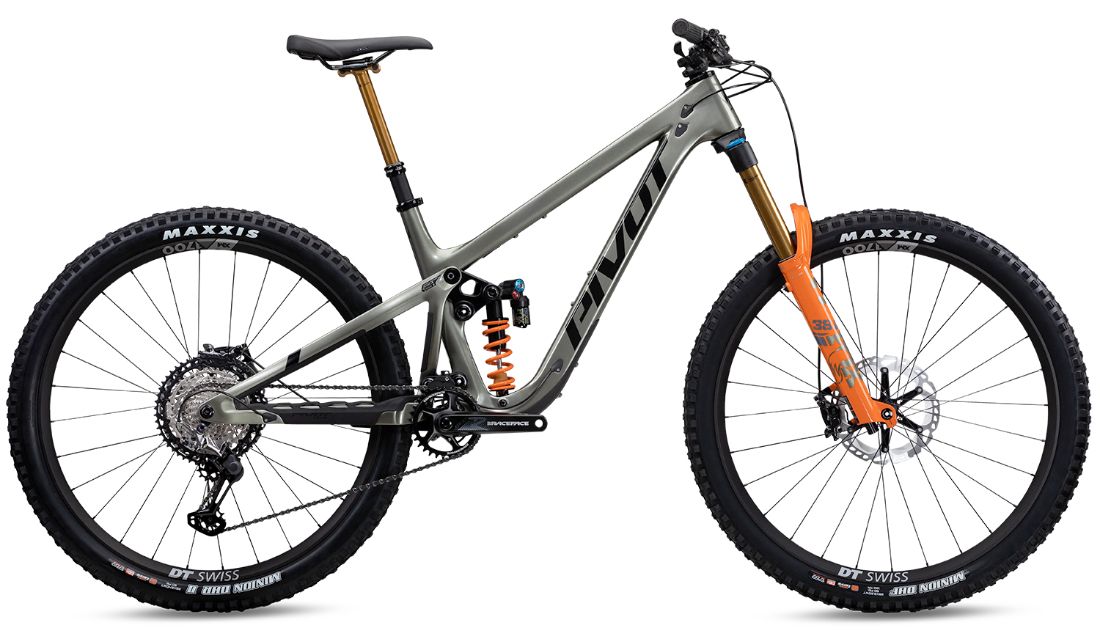 Key Specs
Specifications for the Pivot Firebird that are the most important to picking a mountain bike.

| Specs | Firebird Race XT | Firebird Pro XT/XTR - Air | Firebird Pro XT/XTR - Coil | Firebird Pro X01 - Air | Firebird Pro X01 - Coil | Firebird Team XTR - Air | Firebird Team XTR - Coil | Firebird Team XX1 AXS - Air | Firebird Team XX1 AXS - Coil |
| --- | --- | --- | --- | --- | --- | --- | --- | --- | --- |
| Price (USD) | 6099 | 7299 | 7499 | 8199 | 8399 | 9599 | 9799 | 11399 | 11599 |
| Rear Travel (mm) | 165 | 165 | 165 | 165 | 165 | 165 | 165 | 165 | 165 |
| Front Travel (mm) | 170 | 170 | 170 | 170 | 170 | 170 | 170 | 170 | 170 |
| Head Tube Angle | 64 | 64 | 64 | 64 | 64 | 64 | 64 | 64 | 64 |
| Seat Tube Angle | 76.5 | 76.5 | 76.5 | 76.5 | 76.5 | 76.5 | 76.5 | 76.5 | 76.5 |
| Wheel Size (in) | 29 | - | - | - | - | - | - | - | - |
| Max Tire Width (in) | 29x2.6, 27.5x2.8 | 29x2.6, 27.5x2.8 | 29x2.6, 27.5x2.8 | 29x2.6, 27.5x2.8 | 29x2.6, 27.5x2.8 | 29x2.6, 27.5x2.8 | 29x2.6, 27.5x2.8 | 29x2.6, 27.5x2.8 | 29x2.6, 27.5x2.8 |
| Component Group | XT | - | - | - | - | - | - | - | - |
| Frame Material | Carbon | Carbon | Carbon | Carbon | Carbon | Carbon | Carbon | Carbon | Carbon |
| Weight (kgs) | - | - | - | - | - | - | - | - | - |
Components
Components for each model of the Pivot Firebird comes with.

| Component | Firebird Race XT | Firebird Pro XT/XTR - Air | Firebird Pro XT/XTR - Coil | Firebird Pro X01 - Air | Firebird Pro X01 - Coil | Firebird Team XTR - Air | Firebird Team XTR - Coil | Firebird Team XX1 AXS - Air | Firebird Team XX1 AXS - Coil |
| --- | --- | --- | --- | --- | --- | --- | --- | --- | --- |
| Rear Shock | Fox Performance Elite Float X | Fox Factory Float X2 | Fox Factory DHX2 | Fox Factory Float X2 | Fox Factory DHX2 | Fox Factory Float X2 | Fox Factory DHX2 | Fox Factory Float X2 | Fox Factory DHX2 |
| Fork | Fox Performance 38 29", 44mm offset, GRIP - 170mm | Fox Factory 38 29", 44mm offset, GRIP2 - 170mm | Fox Factory 38 29", 44mm offset, GRIP2 - 170mm | Fox Factory 38 29", 44mm offset, GRIP2 - 170mm | Fox Factory 38 29", 44mm offset, GRIP2 - 170mm | Fox Factory 38 29", 44mm offset, GRIP2 - 170mm | Fox Factory 38 29", 44mm offset, GRIP2 - 170mm | Fox Factory 38 29", 44mm offset, GRIP2 - 170mm | Fox Factory 38 29", 44mm offset, GRIP2 - 170mm |
| Tires | F: Maxxis Minion DHF 29" x 2.5" WT, TR, 3C, EXO+, MAXXTERRA; R: Maxxis Minion DHRII 29" x 2.4" WT, TR, 3C, EXO+, MAXXTERRA | F: Maxxis Minion DHF 29" x 2.5" WT, TR, 3C, EXO+, MAXXTERRA; R: Maxxis Minion DHRII 29" x 2.4" WT, TR, 3C, EXO+, MAXXTERRA | F: Maxxis Minion DHF 29" x 2.5" WT, TR, 3C, EXO+, MAXXTERRA; R: Maxxis Minion DHRII 29" x 2.4" WT, TR, 3C, EXO+, MAXXTERRA | F: Maxxis Minion DHF 29" x 2.5" WT, TR, 3C, EXO+, MAXXTERRA; R: Maxxis Minion DHRII 29" x 2.4" WT, TR, 3C, EXO+, MAXXTERRA | F: Maxxis Minion DHF 29" x 2.5" WT, TR, 3C, EXO+, MAXXTERRA; R: Maxxis Minion DHRII 29" x 2.4" WT, TR, 3C, EXO+, MAXXTERRA | F: Maxxis Minion DHF 29" x 2.5" WT, TR, 3C, EXO+, MAXXTERRA; R: Maxxis Minion DHRII 29" x 2.4" WT, TR, 3C, EXO+, MAXXTERRA | F: Maxxis Minion DHF 29" x 2.5" WT, TR, 3C, EXO+, MAXXTERRA; R: Maxxis Minion DHRII 29" x 2.4" WT, TR, 3C, EXO+, MAXXTERRA | F: Maxxis Minion DHF 29" x 2.5" WT, TR, 3C, EXO+, MAXXTERRA; R: Maxxis Minion DHRII 29" x 2.4" WT, TR, 3C, EXO+, MAXXTERRA | F: Maxxis Minion DHF 29" x 2.5" WT, TR, 3C, EXO+, MAXXTERRA; R: Maxxis Minion DHRII 29" x 2.4" WT, TR, 3C, EXO+, MAXXTERRA |
| Wheelset | DT Swiss M1900 w/ DT Swiss 370 hub, 30mm - 29" 15x110 F/12x157 R | DT Swiss XM1700 w/ DT Swiss 350 hub & 36t Star Ratchet 30mm - 29" 15x110 F/12x157 R | DT Swiss XM1700 w/ DT Swiss 350 hub & 36t Star Ratchet 30mm - 29" 15x110 F/12x157 R | DT Swiss XM1700 w/ DT Swiss 350 hub & 36t Star Ratchet 30mm - 29" 15x110 F/12x157 R | DT Swiss XM1700 w/ DT Swiss 350 hub & 36t Star Ratchet 30mm - 29" 15x110 F/12x157 R | Reynolds Blacklabel Enduro Wide Trail w/ Industry Nine hub, 34mm - 29" 15x110 F/12x157 R | Reynolds Blacklabel Enduro Wide Trail w/ Industry Nine hub, 34mm - 29" 15x110 F/12x157 R | Reynolds Blacklabel Enduro Wide Trail w/ Industry Nine hub, 34mm - 29" 15x110 F/12x157 R | Reynolds Blacklabel Enduro Wide Trail w/ Industry Nine hub, 34mm - 29" 15x110 F/12x157 R |
| Brakes | Shimano SLX M7120 4-piston | Shimano XT M8120 4-piston | Shimano XT M8120 4-piston | Sram Code RSC 4-piston | Sram Code RSC 4-piston | Shimano XTR M9120 4-piston | Shimano XTR M9120 4-piston | Sram Code RSC 4-piston | Sram Code RSC 4-piston |
| Rotors | F: Shimano SLX 6-bolt - 203mm; R: Shimano SLX 6-bolt - 203mm | F: Shimano XT CenterLock - 203mm; R: Shimano XT CenterLock - 203mm | F: Shimano XT CenterLock - 203mm; R: Shimano XT CenterLock - 203mm | F: Sram Centerline CenterLock - 200mm; R: Sram Centerline CenterLock - 200mm | F: Sram Centerline CenterLock - 200mm; R: Sram Centerline CenterLock - 200mm | F: Shimano XTR CenterLock - 203mm; R: Shimano XTR CenterLock - 203mm | F: Shimano XTR CenterLock - 203mm; R: Shimano XTR CenterLock - 203mm | F: Sram Centerline CenterLock - 200mm; R: Sram Centerline CenterLock - 200mm | F: Sram Centerline CenterLock - 200mm; R: Sram Centerline CenterLock - 200mm |
| Stem | Phoenix Team Enduro/Trail | Phoenix Team Enduro/Trail | Phoenix Team Enduro/Trail | Phoenix Team Enduro/Trail | Phoenix Team Enduro/Trail | Phoenix Team Enduro/Trail | Phoenix Team Enduro/Trail | Phoenix Team Enduro/Trail | Phoenix Team Enduro/Trail |
| Headset | Pivot Precision Sealed Cartridge | Pivot Precision Sealed Cartridge | Pivot Precision Sealed Cartridge | Pivot Precision Sealed Cartridge | Pivot Precision Sealed Cartridge | Pivot Precision Sealed Cartridge | Pivot Precision Sealed Cartridge | Pivot Precision Sealed Cartridge | Pivot Precision Sealed Cartridge |
| Handlebars | Phoenix Race Low Rise Aluminum - 800mm | Phoenix Team Low Rise Carbon - 800mm | Phoenix Team Low Rise Carbon - 800mm | Phoenix Team Low Rise Carbon - 800mm | Phoenix Team Low Rise Carbon - 800mm | Phoenix Team Low Rise Carbon - 800mm | Phoenix Team Low Rise Carbon - 800mm | Phoenix Team Low Rise Carbon - 800mm | Phoenix Team Low Rise Carbon - 800mm |
| Shift Levers | Shimano SLX M7100 ISPEC EV 12-Speed | Shimano XT M8100 ISPEC EV 12-Speed | Shimano XT M8100 ISPEC EV 12-Speed | Sram X01 Eagle 12-Speed | Sram X01 Eagle 12-Speed | Shimano XTR M9100 ISPEC EV 12-Speed | Shimano XTR M9100 ISPEC EV 12-Speed | Sram XX1 Eagle AXS 12-Speed | Sram XX1 Eagle AXS 12-Speed |
| Grips | Phoenix Factory Lock-On | Phoenix Factory Lock-On | Phoenix Factory Lock-On | Phoenix Factory Lock-On | Phoenix Factory Lock-On | Phoenix Factory Lock-On | Phoenix Factory Lock-On | Phoenix Factory Lock-On | Phoenix Factory Lock-On |
| Saddle | Phoenix WTB Volt Race (Medium Width) | Phoenix WTB Volt Pro (Medium Width) | Phoenix WTB Volt Pro (Medium Width) | Phoenix WTB Volt Pro (Medium Width) | Phoenix WTB Volt Pro (Medium Width) | Phoenix WTB Volt Pro (Medium Width) | Phoenix WTB Volt Pro (Medium Width) | Phoenix WTB Volt Team (Medium Width) | Phoenix WTB Volt Team (Medium Width) |
| Seatpost | Fox Transfer Performance Elite 150mm (SM), 175mm (MD-LG), 200mm (XL) | Fox Transfer Factory Series 150mm (SM), 175mm (MD-LG), 200mm (XL) | Fox Transfer Factory Series 150mm (SM), 175mm (MD-LG), 200mm (XL) | Fox Transfer Factory Series 150mm (SM), 175mm (MD-LG), 200mm (XL) | Fox Transfer Factory Series 150mm (SM), 175mm (MD-LG), 200mm (XL) | Fox Transfer Factory Series 150mm (SM), 175mm (MD-LG), 200mm (XL) | Fox Transfer Factory Series 150mm (SM), 175mm (MD-LG), 200mm (XL) | Rock Shox Reverb AXS 125mm (SM), 170mm (MD-XL) | Rock Shox Reverb AXS 125mm (SM), 170mm (MD-XL) |
| Cassette | Shimano SLX M7100 10-51t | Shimano XT M8100 10-51t | Shimano XT M8100 10-51t | Sram XG-1275 10-52t | Sram XG-1275 10-52t | Shimano XTR M9100 10-51t | Shimano XTR M9100 10-51t | Sram XG-1299 10-52t | Sram XG-1299 10-52t |
| Chain | Shimano CN-M7100 12-Speed | Shimano CN-M8100 12-Speed | Shimano CN-M8100 12-Speed | Sram X01 Eagle 12-Speed | Sram X01 Eagle 12-Speed | Shimano CN-M9100 12-Speed | Shimano CN-M9100 12-Speed | Sram XX1 Eagle 12-Speed | Sram XX1 Eagle 12-Speed |
| Crankset | Race Face Ride 32t | Race Face Æffect R 32t | Race Face Æffect R 32t | Sram X01 Eagle DUB 32t | Sram X01 Eagle DUB 32t | Race Face Next R 32t | Race Face Next R 32t | Sram XX1 Eagle DUB SL 32t | Sram XX1 Eagle DUB SL 32t |
| Rear Derailleur | Shimano XT M8100 SGS 12-Speed | Shimano XTR M9100 SGS 12-Speed | Shimano XTR M9100 SGS 12-Speed | Sram X01 Eagle 12-Speed | Sram X01 Eagle 12-Speed | Shimano XTR M9100 SGS 12-Speed | Shimano XTR M9100 SGS 12-Speed | Sram XX1 Eagle AXS 12-Speed | Sram XX1 Eagle AXS 12-Speed |
Geometry
Geometry numbers for each Pivot Firebird, the fit, feel, & handling.

| Geometry | Firebird Race XT | Firebird Pro XT/XTR - Air | Firebird Pro XT/XTR - Coil | Firebird Pro X01 - Air | Firebird Pro X01 - Coil | Firebird Team XTR - Air | Firebird Team XTR - Coil | Firebird Team XX1 AXS - Air | Firebird Team XX1 AXS - Coil |
| --- | --- | --- | --- | --- | --- | --- | --- | --- | --- |
| Size | MD | MD | MD | MD | MD | MD | MD | MD | MD |
| Handlebar Width (mm) | 800 | 800 | 800 | 800 | 800 | 800 | 800 | 800 | 800 |
| Reach (mm) | 468 | 468 | 468 | 468 | 468 | 468 | 468 | 468 | 468 |
| Top Tube Length (mm) | 624 | 624 | 624 | 624 | 624 | 624 | 624 | 624 | 624 |
| Stack (mm) | 627 | 627 | 627 | 627 | 627 | 627 | 627 | 627 | 627 |
| Wheelbase (mm) | 1239 | 1239 | 1239 | 1239 | 1239 | 1239 | 1239 | 1239 | 1239 |
| Chainstay Length (mm) | 434 | 434 | 434 | 434 | 434 | 434 | 434 | 434 | 434 |
| BB Drop (mm) | 20 | 20 | 20 | 20 | 20 | 20 | 20 | 20 | 20 |
| BB Height (mm) | 350 | 350 | 350 | 350 | 350 | 350 | 350 | 350 | 350 |
| Head Tube Angle - High (degrees) | 64.6 | 64.6 | 64.6 | 64.6 | 64.6 | 64.6 | 64.6 | 64.6 | 64.6 |
| Head Tube Angle (degrees) | 64 | 64 | 64 | 64 | 64 | 64 | 64 | 64 | 64 |
| Seat Tube Angle (degrees) | 76.5 | 76.5 | 76.5 | 76.5 | 76.5 | 76.5 | 76.5 | 76.5 | 76.5 |
| Seat Tube Angle - High (degrees) | 77 | 77 | 77 | 77 | 77 | 77 | 77 | 77 | 77 |
| Head Tube Length (mm) | 108 | 108 | 108 | 108 | 108 | 108 | 108 | 108 | 108 |
| Bike Standover Height (mm) | 672 | 672 | 672 | 672 | 672 | 672 | 672 | 672 | 672 |
| Fork Rake Offset (mm) | 44 | 44 | 44 | 44 | 44 | 44 | 44 | 44 | 44 |
Gallery
18
Firebird Pro XT/XTR - Air
Firebird Pro XT/XTR - Coil
Firebird Team XX1 AXS - Air
Firebird Team XX1 AXS - Coil
Videos
2
Firebird Pro XT/XTR - Air